---
Recall Setup
Recall setup is different for MIDI tracks and Instrument tracks.
MIDI Track Recall
Recall on MIDI tracks uses Cubase's built-in MIDI Send + Transformer.
Instrument Track Recall
Recall on instrument tracks uses the MKRecallSend VST3 plugin. This plugin is included in your Composer Tools Pro download folder.
MKRecallTigger VST3 Plugin Installation:
Quit Cubase and drag the MKRecallTrigger plugin into your VST3 plugins folder.
Macintosh HD/Library/Audio/Plug-Ins/VST3
C://Program Files/Common Files/VST3
On first launch you will be required to authorize the plugin with your Composer Tools Pro registered email and license key. An internet connection is required during activation.
Extra: Auto-Recall on Track Selection
No need to press the Recall button!
Cubase's Generic Remote feature allows Composer Tools Pro to automatically recall a track when its clicked in your Project window.
How it works:
Clicking a track in your Cubase Project window cases the Generic Remote to ping Composer Tools Pro with CC126.
Composer Tools Pro responds with CC127.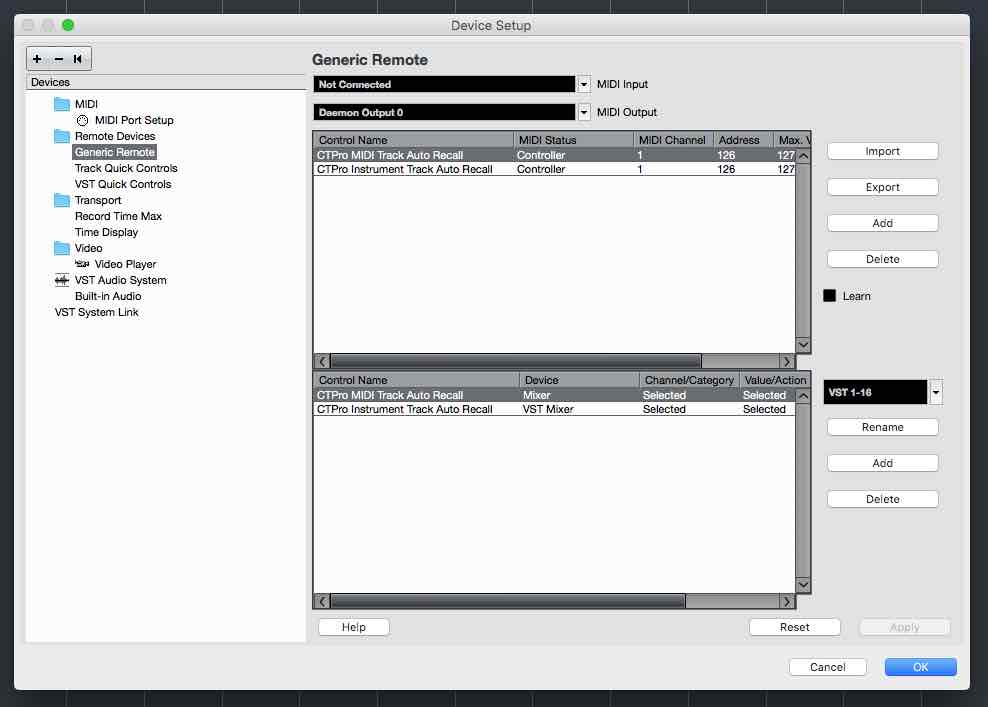 If you've used Cubase Generic Remotes before, this setup will be familiar to you.
In your Composer Tools Pro download folder, locate the CTPro Auto-Recall Generic Remote.
In Cubase, go to Studio/Studio Setup…
Click on the plus button at the top left and add one new Generic Remote.
Click import and bring in the CTPro Auto-Recall Generic Remote.
Set the remote's MIDI output to Composer Tools Pro's main MIDI input.
Click Apply.